Here's an interesting fish that I want to show you! It's a blobfish and it's scientific name is... Well. Impressive, as usual. It's a blob of Psychrolutes marcidus.
Now before you proceed to stare at a photo of it, I would like to highlight that it can look pretty disturbing to the faint-hearted. So yeap. You have been warned.
Here goes:
.
Isn't it cute?!
IT'S SO DISGUSTINGLY CUTE!
♥
Seriously! I know it sounds like an inherent irony BUT JUST LOOK AT HIS EYEEEEES. He looks (I'll just assume that it's a he, since... Well. Girls prefer to be pretty.) so incredibly adorable, yet sad. But still gross.
ALL AT THE SAME TIME.
:O!
Anyway they are sort of repetitive but the other photos of the blobfish is more scary than cute-sotongish-blur kind of thing. You can go google other images if you want.
There are loads of products on blobfishes, which is unsurprising, really. IT'S SO CUTE. I know I sound like some retard right now but BLOBFISHES ARE JUST SO CUTE.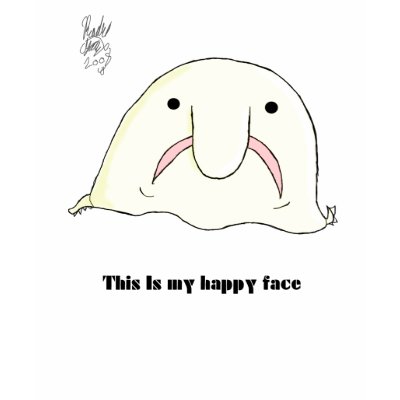 P.S: I used to read Thoughtcatalog a little, then I just stopped cause it became boring. I checked back today and it became worse. Not my preferred genre, I would say. loads of supposedly insightful and thoughtful articles but I think it's... Too much. It's like reading an emo person's blog (which I don't) typed in a nice, legible, and slightly exaggerated way.
Here's an extract from the better articles. Better since the title sounded more readable than the rest only read the second half of this and closed the tab) It's written by Donna Shute, titled The Beauty Of Imperfection (see what I mean?) Some people love reading such stuff though, I'm just saying that I don't.
The text below are from the final two paragraphs of the article. So this means that you should have read a lot of uninteresting stuff (to me, at least) before getting to the nicer bits. Then again, every wordy text is like that.
Today I challenge myself to go ahead and wear — and wear with pride — those ten-year-old jeans I love so much, the ones with the flecks of paint at the knees I got from building a set – from doing what I loved. Maybe I can tolerate a few wrinkles here and there in my T-shirts, as I've no time to waste anymore crying over an ironing board when I have a life to be lived. I'm going to a wedding this afternoon, and maybe I'll even haul out of the closet that dress with the invisible ink spot — the ink spot I no doubt got from writing a note to someone I loved. Can these stains and wrinkles even be called imperfections? Or are they simply physical evidence of a life lived out loud?
If so, then Marilyn was right; imperfection is beauty. So live out loud, and make choices today that spill some ink and rip some denim, because those are the only choices, in the end, worth making.