I watched this last year: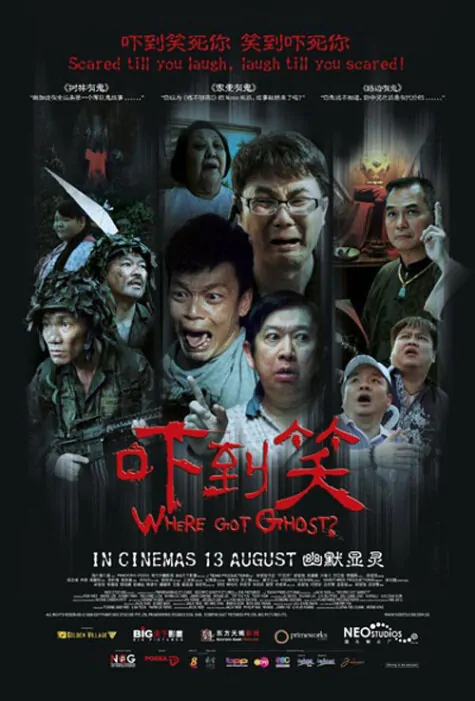 And this last Saturday:
Side note: While googling "Jack Neo Film", the first search that came up was "Jack Neo scandal".
By the way it's supposed to be a horror comedy, but I still find it quite scary la, I've got a faint heart.
Both contains a mixture of English, Malay, Indian, Hokkien, Mandarin and all sorts of mumbo jumbo which would not be understood by non-Singaporeans for sure.
Y'know how it feels like to laugh at inside jokes?
That's the positive thing about Singaporean movies. (:
So anyway, there's this new movie coming up soon!
I watched the trailer the other day, and it's pretty cool. Mark Lee was imitating
a certain chef's accent
, and liang po po looked super cute and ah-maish.
"Homecoming" is about three stories of three different individuals going home for Chinese New Year. A major highlight of the movie is that Jack Neo, who will be cross-dressing on the big screen again after eleven years since "Liang Po Po The Movie" back in 1999. He will be playing mother to Ah Niu's character. It is said that he was told to lose at least 5kg for his role. Jack Neo long time collaborator Mark Lee and Malaysian multi-talented writer-director-comedian Afdlin Shauki are among the cast.
Was thinking of watching it before New Year as a sort of
warm-up
before New Year. :P
Oh and did you read the news? This year is gonna be the year of the rabbit, so people are
greeting the "gong xi fa cai" with criss-crossed, clenced fists (how to describe?!) and their thumbs sticking up!
Nevermind if you cannot understand what I've just said, I tried googling for a picture but all that came up were rabbit paper cuttings and all sorts of hands.
Anyway, the film opens on 3rd February 2011!